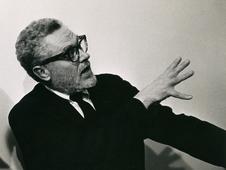 Tony Smith (1912-1980) is best known for his abstract sculptures created in the 1960s and 1970s, each a unique fusion of modular geometric forms combined intuitively. Multilayered meaning embedded in the work stems from Smith's wide-ranging passions, including the history of art and architecture, mathematics, science, and Asian philosophy, as well as the writings of James Joyce.
Smith's career began at the Art Students League in the 1930s, like Jackson Pollock and other Abstract Expressionists who were his contemporaries and close friends. In 1937 he decided to pursue architecture, and enrolled at the New Bauhaus in Chicago where his teachers included László Moholy-Nagy, Alexander Archipenko, and Gyorgy Kepes. He left after one year, and in 1938-40 worked for Frank Lloyd Wright, beginning as a carpenter and rising to Clerk of the Works for the Ardmore project near Philadelphia, and then on several Usonian homes. From 1940 until the early 1960s Smith was an independent architectural designer. He realized more than nineteen private homes and other projects, but many of his plans, including a model Roman Catholic Church (1950), were never built.
Smith met and married the actress Jane Lawrence in 1943; they lived in Hollywood, California from 1943-45. He moved to Germany in 1953, joining Jane, who was there singing opera.
While in Germany, Smith completed the Louisenberg paintings, planned architectural projects, and developed new ideas, many of which affected his development in the next decade. Their daughter Chiara (Kiki) was born in Nurnberg in 1954; twins Beatrice (Bebe) and Anne (Seton) were born in South Orange, New Jersey, when the couple returned home in the summer of 1955.
Smith's work came to prominence in the 1960s in the context of Minimal art. Free Ride (1962) was included in the landmark "Primary Structures" exhibition at the Jewish Museum in New York City in 1966. In 1967 he had concurrent solo exhibitions at the Wadsworth Atheneum, Hartford, and at the Institute of Contemporary Art, Philadelphia; his work filled New York City's Bryant Park, and the two-story crystallographic plywood construction Smoke was featured in "Scale as Content" at the Corcoran Gallery of Art.
In 1998, the Museum of Modern Art mounted a major retrospective of his sculpture, architecture, and painting. In 2012, institutions around the world celebrated Smith's 100th birthday with special exhibitions, including an outdoor installation in New York's Bryant Park and a symposium at the National Gallery of Art in Washington.
The Los Angeles County Museum of Art acquired the monumental sculpture Smoke in 2008, and in 2017 mounted a thematic exhibition highlighting this work.
Published interviews and statements, together with teaching at New York University (1946-50), Bennington College (1958-61), Hunter College (1962-74), and Princeton University (1975-77), enhanced Smith's influence on a younger generation of artists and the postwar artworld.